Thursday 10 February 2022
Publications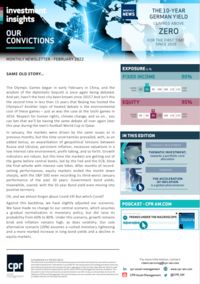 Investment insights - February 2022
Please find below our publication "Investment insights" which will give you our vision of the market and our 3 months scenario.
SAME OLD STORY…
The Olympic Games began in early February in China, and the wisdom of the diplomatic boycott is once again being debated. And yet, hasn't the host city been known since 2015? And isn't this the second time in less than 15 years that Beijing has hosted the Olympics? Another topic of heated debate is the environmental cost of these games – just as was the case at the Sochi games in 2014. Respect for human rights, climate change, and so on… you can bet that we'll be having the same debate all over again later this year during the men's football World Cup in Qatar.
In January, the markets were driven by the same issues as in previous months, but this time uncertainties prevailed, with, as an added bonus, an exacerbation of geopolitical tensions between Russia and Ukraine, persistent inflation, excessive valuations in a low interest rate environment, profit-taking, and so forth. Growth indicators are robust, but this time the markets are getting out of the game before central banks, led by the Fed and the ECB, blow the final whistle with interest rate hikes. After months of recordsetting performances, equity markets ended the month down sharply, with the S&P 500 even recording its third-worst January performance of the past 30 years. Government bond yields, meanwhile, soared, with the 10-year Bund yield even moving into positive territory.
Oh, and we almost forgot about Covid-19! But which Covid?
Against this backdrop, we have slightly adjusted our scenarios. We have made no change to our central scenario, which assumes a gradual normalisation in monetary policy, but did raise its probability from 60% to 80%. Under this scenario, growth remains brisk and inflation remains high, as does volatility. Our sole alternative scenario (20%) assumes a rushed monetary tightening and a more marked increase in long bond yields and a decline in equity markets.
THEMATIC INVESTMENT - White paper - Thematic investment, towards a portfolio-core allocation
STRATEGY - The acceleration of inflation is a global phenomenon
Central scenario : Gradual normalisation of monetary policy
Alternative scenario : A rushed monetary tightening
Our next publication will be published in march 2022. Our teams are at your disposal for any complimentary information.
Sign up to our newsletter
Follow the latest news from CPR AM in our monthly publication "Investments Insight, our convictions": our market vision, our 3-month scenarios, and many exclusive articles from our experts.