Thursday 13 January 2022
Publications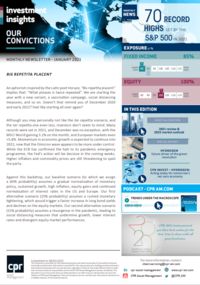 Investment insights - January 2022
Please find below our publication "Investment insights" which will give you our vision of the market and our 3 months scenario.
BIS REPETITA PLACENT
An aphorism inspired by the Latin poet Horace, "Bis repetita placent" implies that: "What pleases is twice repeated". We are starting the year with a new variant, a vaccination campaign, social distancing measures, and so on. Doesn't that remind you of December 2020 and early 2021? Feel like starting all over again?
Although you may personally not like the bis repetita scenario, and the ter repetita one even less, investors don't seem to mind. Many records were set in 2021, and December was no exception, with the MSCI World gaining 3.1% on the month, and European markets even +5.8%. Momentum in economic growth is expected to continue into 2022, now that the Omicron wave appears to be more under control. While the ECB has confirmed the halt to its pandemic emergency programme, the Fed's action will be decisive in the coming weeks. Higher inflation and commodity prices are still threatening to spoil the party.
Against this backdrop, our baseline scenario (to which we assign a 60% probability) assumes a gradual normalisation of monetary policy, sustained growth, high inflation, equity gains and continued normalisation of interest rates in the US and Europe. Our first alternative scenario (25% probability) assumes a rushed monetary tightening, which would trigger a faster increase in long bond yields and declines on the equity markets. Our second alternative scenario (15% probability) assumes a resurgence in the pandemic, leading to social distancing measures that undermine growth, lower interest rates and divergent equity market performances.
ASSET ALLOCATION : 2021 review & 2022 market outlook
HYDROGEN - Future driver of the green revolution
CPR INVEST - Hydrogen : Acting today for tomorrow's net zero economy
Central scenario : Gradual normalisation of monetary policy
Alternative scenario 1 : A rushed monetary tightening
Alternative scenario 2 : A sudden resurgence in the pandemic
Our next publication will be published in february 2022. Our teams are at your disposal for any complimentary information.
Sign up to our newsletter
Follow the latest news from CPR AM in our monthly publication "Investments Insight, our convictions": our market vision, our 3-month scenarios, and many exclusive articles from our experts.